Outdoor 19"Optical Distribution Frames (OR)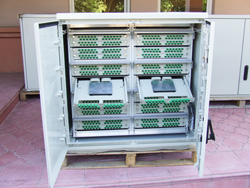 The 19"Optical Distribution Frame provides optical cable splicing and termination in telecommunication nodes with high and medium fiber concentration. It is used in telecommunication networks, predominantly in remote units of a switching system, in HFC cable systems and LANs.
The 19"Optical Distribution Frames are manufactured in various versions in accordance with requested capacity:
OR-672 with capacity of 672 fiber connectors
OR-572 with capacity of 572 fiber connectors
OR-288 with capacity of 288 fiber connectors, etc.
Characteristics:
installed in detached polyester cabinet with a pedestal
Intended for outdoor installation
modular design, maximum capacity of 672 optical fibers
suitable for all connector types (FC, SC and ST)