Optical Networks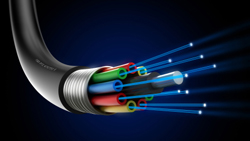 TELEFONKABL, till this very moment, has planned, installed and commissioned more than 3.000 kilometers of fiber optic cables of various capacities on a backbone, regional and local level. This fact provides TELEFONKABL the first place in Serbia in respect of optical telecommunications.
TELEFONKABL is a leader of a small group of companies in Serbia, that have complete range of equipment necessary for laying down, installation and commissioning of optical cables on a backbone level.
TELEFONKABL is the first company in Serbia that installed optical cables for Public Enterprise of PTT Traffic "Serbia".
In addition, TELEFONKABL has its own production of fiber optic devices, such as optical distribution frames and optical termination boxes. All TELEFONKABL's products have homologation certificates issued by Serbian Republic Agency for Electric Communications (RATEL).
At the beginning of 2012, TELEFONKABL established and equipped its expert's teams for planning and building up of metro ICT optical fiber networks based on mini and micro optical cables which are laid down in mini and micro trenches. Such way of building up of ICT optical fiber networks in the cities, provides high quality ICT networks with minimal digging of roads and sidewalks.