HFC Cable Systems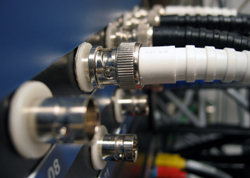 TELEFONKABL has leading position in Serbia in the field of planning, installation, commissioning and maintenance of Hybrid Fiber Coax Networks which include CATV, Video on Demand, Fast Internet, Voice over a Cable)
In 1996 TELEFONKABL started as the first CATV service provider in Serbia with 35 thousand subscribers in the cities of Belgrade, Smederevo, Velika Plana and Subotica.
In 2002, this business was sold to PE of PTT Traffic "Serbia".
Nowadays, TELEFONKABL is the most important partner of PE of PTT Traffic "Serbia" in the field of HFC Cable Network planning, building up and maintenance.