Railway Systems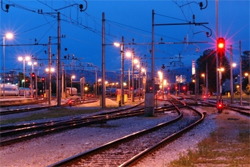 TELEFONKABL's scope of works concerning Railway Systems includes planning, installation, commissioning and maintenance of Railway Signaling and Safety Systems as well as Railway Telecommunication Systems.
TELEFONKABL has been a strategic partner of Serbian Railways in the field of signaling and telecommunications for a very long period of time. During eight last years TELEFONKABL significantly contributed to modernization of Serbian Railway infrastructure financed by European Investment Bank.
TELEFONKABL references concerning Serbian Railways include laying down, installation and commissioning of more than 300 kilometers of telecommunication signaling cables, safety signaling devices, exchanges and automatic dispatch systems.